With a passion for aviation, Eugenio Donati, Co-Founder of AeroVect, was eager to bring it into the modern world with automation, something it desperately needed coming out of the pandemic.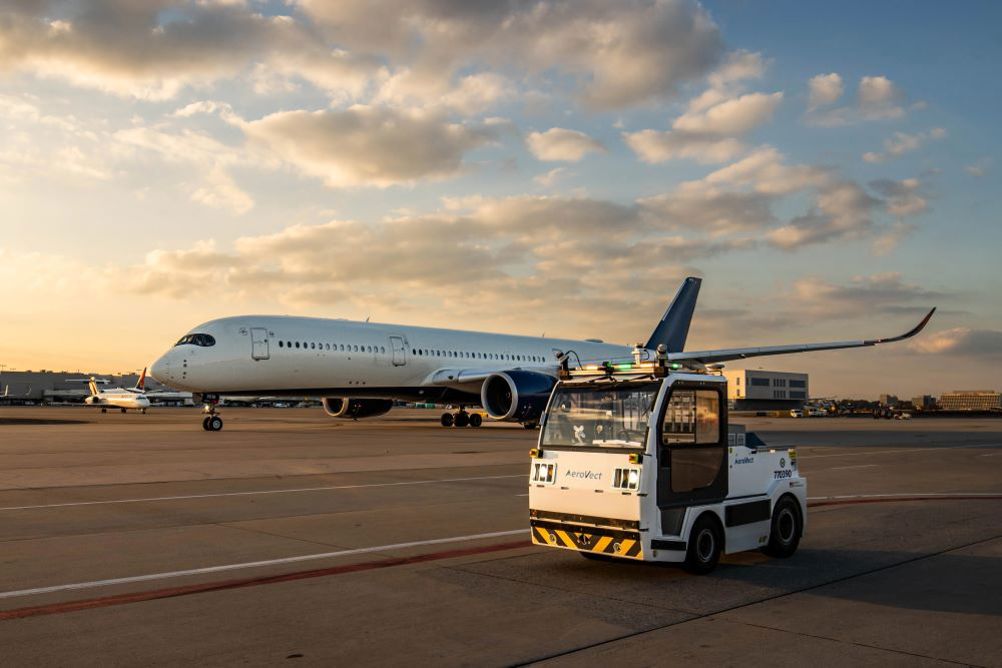 Growing up in a small town in Italy, Eugenio Donati had big dreams, which took him to Harvard University and have led to developing the first autonomous system designed specifically for aviation. Speaking at the 23rd GHI Annual Conference in Amsterdam, Donati talked about the company's journey and where it will go.
Studying Economics at Harvard University, Donati had the opportunity to take classes at the Massachusetts Institute of Technology (MIT) so he spent time at the International Center of Air Transportation (ICAT). Taking classes on airline economics, Donati learnt how airports and airlines function.
In spring 2020, Donati was unable to return to his native Italy, so he had plenty of time in his room to think about what to do with his future. Catching up with his friend, Raymond Wang, who is also very passionate about aviation, the two of them realised that there were huge opportunities providing automation to the ground handling sector so they agreed to start their own company in this area.
After graduating, the two of them moved to the San Francisco Bay Area, bought the cheapest used baggage tractor they could find and built the first prototype in their garage.
Donati said: "What we saw with Covid was a big dislocation in labour markets for ground handling. It was a time when the industry was struggling but there were very promising signs that it was going to bounce back very quickly, which is exactly what happened."
The two big inputs in ground handling are equipment and labour; the ability to attract, hire and retain labour is key, so Donati and Wang realised that self-driving software designed specifically for the airport could help alleviate labour shortages.
Donati said: "I love aviation, airlines and airports, and it is a space that desperately needs automation, especially post-Covid. It is becoming a life or death matter for a lot of airlines and handlers who can't cope with the lack of labour. It's not nice to have, it is a need to have."
San Francisco was the place to set up business due to the density of companies working in the space of automation. When AeroVect was operating out of the garage in the rented house, the next door neighbour worked in autonomous driving.
The baggage tractor was fitted with sensors commonly used in self-driving cars including 3D LiDAR, cameras and GPS. Software had to be written to deal with the unique challenges of airports, where it needs to recognise GSE, aircraft and runway markings, and know how to cross active taxiways.
Early tests took place in the neighbourhood and the neighbours were curious about the project, asking what they were doing with a baggage tractor and ULDs on the driveway. Before going home for Christmas in 2020, Donati picked oranges from the garden and left them in Amazon boxes for the neighbours so everything was all good.
AeroVect has gained backing from leading investors in the aerospace and autonomous sectors who had been early backers of companies including Tesla. Donati said the company thought hard about which backers they wanted to deal with.
He said: "We wanted to work specifically with people who had expertise in either automation or aerospace. I think that opens up a lot of doors; these are people who are familiar with how to scale autonomy and aerospace businesses, and we are at the intersection of these two spaces. It is a very good idea to work with investors who understand your space. There are a lot of people out there who have money and it's possible to get their money but you want to take a focused approach in who you work with and it has paid a lot of dividends for us."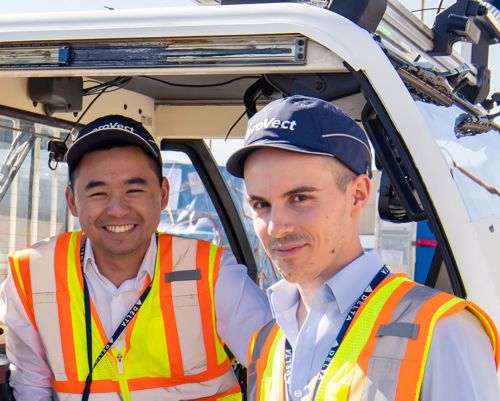 Public demonstrations

Donati took the product public at the GSE Expo in Las Vegas in October 2021, and the reaction was amazement with people unable to believe that such a product was possible. People knew that GSE automation was coming but believed it was some time in the future so could not believe that it was real.
"It was a real, tangible product that they could sit on and the autonomous tractor would take them around the parking lot of the GSE Expo, fully autonomously," he said.
Donati has visited several shows including IATA's Ground Handling Conference and GSE Expo Europe to deliver presentations and present the product, and he has always left with a large stack of business cards.
There are several autonomous products on the market but only AeroVect has a specific focus on aviation, which people in the industry like. They also appreciate AeroVect being OEM agnostic, so existing fleets can be retrofitted with AeroVect's system.
Since working on the first prototype, AeroVect has retrofitted platforms from all the leading OEMs, showing that it is quite simple to retrofit any platform. Capabilities that were not possible when working in the garage have been added, such as handling taxiway crossings, which the team spent a lot of time working on.
To map airports, AeroVect has built a mapping kit, the AeroVect Explorer, which can be installed on any vehicle. Driving around the airport, the system builds a digital twin and over the last year and a half, AeroVect has built the world's largest data set for airport driving data, building digital twins of several of the largest airports in the US. The data covers different geographies and weather conditions, whether it be sun, rain or snow, and this is used to train the system.
Donati said: "We take all of this data then feed it to our autonomous driving system and over time, it becomes what we like to call the world's most experienced airside driver because it has seen more diversity of scenarios and airports than any human ever could."
Working with launch partners GAT, dnata and Delta Air Lines, who were all willing to use the product but had doubts whether it worked, the feedback has been very positive. Testing the product with Delta at Atlanta airport, AeroVect drove in real-time conditions at one of the world's busiest airports, and the tractor performed well, giving both AeroVect and Delta the confidence that the product was ready to be deployed at scale.
Recognition of success

AeroVect has been recognised for its achievements including Donati and Wang being named on the Forbes 30 Under 30 and being named as a finalist for the TIACA Air Cargo Sustainability Award, where Donati gave a presentation in front of industry executives at the TIACA Air Cargo Forum in Miami.
The industry has been excited by AeroVect, not just as a business but how it can address challenges the industry faces. Feedback from major airlines and handlers has been encouraging and this makes Donati proud, seeing that AeroVect is producing a product that the industry wants and needs.
"That's why we started the company in the first place because we care and love the aviation industry. During Covid, it was struggling and we wanted to contribute 21st century automation technology into an industry that, in many ways, unfortunately, has been slow to adopt some of the newer technologies being offered and developed. I think it is very exciting that the industry recognises our contribution to this space," said Donati.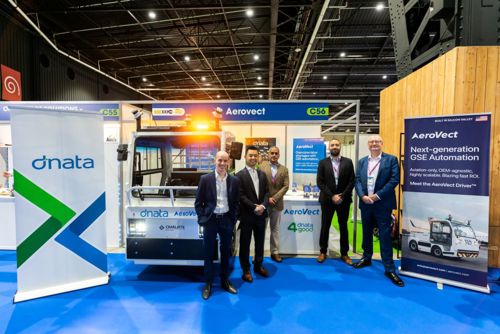 Bright future

Aviation is looking forward to a good year in 2023 with passenger demand rebounding very strongly from the Covid lows. For automation, the key underlying forces pushing the industry are stronger than ever, according to Donati, highlighting labour shortages, safety and productivity issues which existed before the pandemic. These issues have not gone away, rather, they have got worse.
Donati said, "The momentum for automation in airport logistics are as strong as ever, which, of course, is very good for AeroVect, and in general it is a space where there is no going back. When we first started AeroVect, someone said, oh, maybe this is just a temporary thing and I said no, this is a long-term trend in airport logistics, once we start going towards automation, people will see the benefits of what it can bring to their operations. They don't want to go back to pre-automation, manual driving era."
Many of the world's largest airlines and handlers are very interested in what AeroVect is doing. These are exciting times for AeroVect, having just completed its pilot deployment with Delta, dnata is following this year and companies are queuing up to work with AeroVect.
He predicts that 2023 is the year when automation will go from being a product people are piloting to one they are deploying in live airside operations.
It will be an exciting year, with Donati saying, "Momentum is only accelerating in ground handling automation. 2023 will be a key year for the industry, with AeroVect deploying autonomous GSE at the world's largest airports with leading global airlines and handlers."